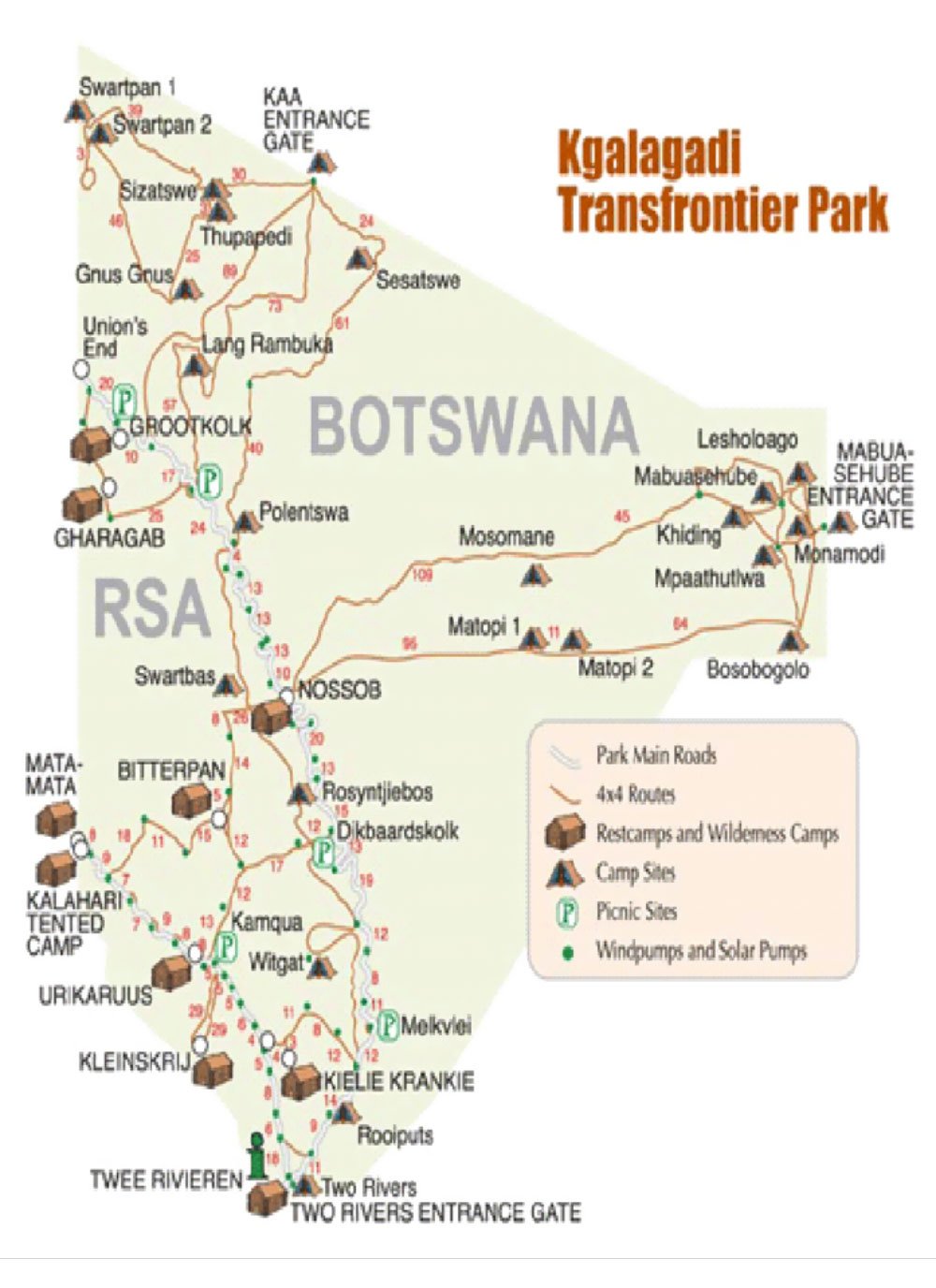 Kgalagadi Transfrontier Park – was created by amalgamating the Kalahari Gemsbok National Park in South Africa (proclaimed in 1931) with the Gemsbok National Park in Botswana. Comprising an area of over 3.6 million hectares it is one of the largest conservation areas in the world.
Kgalagadi Transfrontier Park is a vast wildlife preserve in the Kalahari Desert region of Botswana and South Africa, bordering Namibia to the west. It's characterized by red dunes and dry rivers. Wildlife includes migrating herds of wildebeest, Gemsbok, Kudu, Eland  and springbok, plus predators like raptors and black-maned Kalahari lions, and Brown Hyaena. Various lodges and wilderness camps offer game-viewing drives and guided walks with park rangers. The Kgalagadi Transfrontier Park incorporates Mabuasehube on the eastern side of the park, colloquially known as Mabua to the many visitors.
The entrance to Mabuasehube lies east of the Nossob camp in the Kgalagadi Transfrontier Park. The vast open wild ness of Mabuasehube allows you to experience the untouched wilderness of the Kalahari. The campsites in Mabuasehube are very basic and has no fencing around them. It is not uncommon to encounter predators in and around your campsites.
No trailers are allowed on this Poletswa wilderness trail towards mabuasehube and no less than 2 vehicles and more than 5 vehicles are allowed on this crossing per day. Experience the vast kalahari on this sandy track towards Mabuasehube.
3 Trails from within the Kgalagadi Transfrontier Park incorporating Mabuasehube Game Reserve.
We visited Mabuasehube on the 15th December 2011 for our annual holiday and the experience of a lifetime, this adventure turned into a Bucket-list experience if it's possible to add an experience to the list after the fact. I have written and extensive Nossob 4×4 Eco-trail report in a Blog, for a more detailed description please click and follow the link below.
Contact us to book a guided and fully catered self-drive 4X4 adventure.