Hiking, Walking or Tramping
Hiking, Walking or Tramping
Definition
Hiking
Hiking is the preferred term, in Canada and the United States, for a long, vigorous walk, usually on trails (footpaths), in the countryside, while the word walking is used for shorter, particularly urban walks.
On the other hand, in the United Kingdom, and the Republic of Ireland, the word "walking" is acceptable to describe all forms of walking, whether it is a walk in the park or backpacking in the Alps. The word hiking is also often used in the UK, along with rambling (a slightly old-fashioned term), hillwalking, and fell walking (a term mostly used for hillwalking in north England).
Definition
Tramping
In New Zealand a long, vigorous walk or hike is called tramping.[1]
Why hike/walk/tramp/trek
Be healthy :studies suggest that all forms of walking have health benefits
Cures boredom
Meet people: its a popular activity with hundreds of hiking organizations worldwide
Get close to nature
Best way to experience new places
…
Regardless of what you prefer to call it, we have a choice of many different hikes for every level of fitness. We offer self guided or professionally guided hikes in the Kogelberg World Heritage site or Fernkloof Nature reserve. Both are located in the Cape Floral Kingdom (the  smallest of the six floral kingdoms ) and the only one contained in its entirety within a single country.
Kogelberg Biosphere Reserve
VIEW THE VIDEO⇒
Position
The Kogelberg is just an hour's drive from Cape Town the area is famous for its floral wealth. The 100 000 ha Nature Reserve boasts in excess of 1800 plant species . Many spectacular members of the Protea family, including the Marsh Rose occur here in Kogelberg.
The Kogelberg biosphere offers 5 exciting day hikes departing from the Kogelberg office and Oudebosch Cabins or departure points in close proximity. The Biosphere encompasses the entire coastal area from Gordon's Bay to the Bot River vlei, and inland to Grabouw and the Groenland Mountain.  The Fernkloof Nature Reserve covers 18 square kilometers in Hermanus.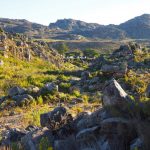 Summary
Article Name
Hiking, Walking or Tramping
Description
Hiking, Tramping or walking - Regardless of what you prefer to call it, we have a choice of many different hikes for every level of fitness.
Author